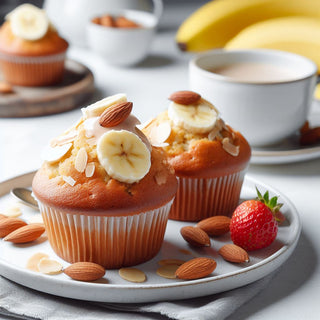 Low Carb Muffins
Preparation Time | 5 mins
Cooking Time | 20 mins
Servings | 1-2
Below is the formula to make these super versatile muffins. If you want to make more, simply times the ingredients by your desired amount.
Here's some serving ideas:
Add a handful of grated carrot, some orange peel, chopped walnuts and sultanas, a  pinch of cinnamon and nutmeg to create carrot cake muffins
Add lemon zest and poppy seeds
Add Almond essence and glace cherries, a mixed dried fruit and a pinch of cinnamon and ginger to create Christmas cake muffins.
Method
Step 1
Pop all your ingredients in an electric whizzer for a smooth consistency.
Step 2:
Pour your batter into individual muffin cases and bake at 180⁰ for 20 minutes
Ingredients
1 Banana
1 Egg
4 tbsp Ground Almonds
1 tbsp Maple Syrup
Pinch Baking Soda