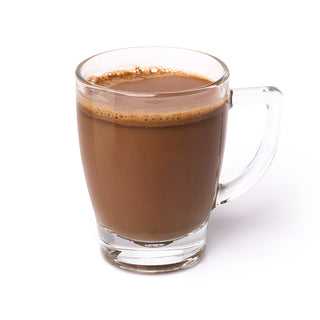 Hot Chocolate Heaven
By Davinia Taylor
Preparation Time | 2 mins
Cooking Time | 0 mins
Servings | 1
For a comforting, sleep inducing, late night snacking, sugar craving stopper, give our tweaked hot chocolate a go.
Method
Step 1
Pour one cup of milk into a pan over a medium heat.
Step 2
Add your cocoa, MCT Keto Creamer, Collagen, honey or stevia and stir whilst gently warming. Make it extra frothy with a whizzer at the end of warming.
Step 3
Get it down you!  Yum! 
Ingredients
A cup of full fat milk (preferably raw milk)
1 tbsp of cacao powder (beware you do not use cocoa powder that is packed with emulsifiers & sugar etc)
1 tbsp of MCT Keto Creamer
1 tsp of Collagen
A drizzle of organic honey or stevia
Featured Products
Use this section to highlight different products within an image