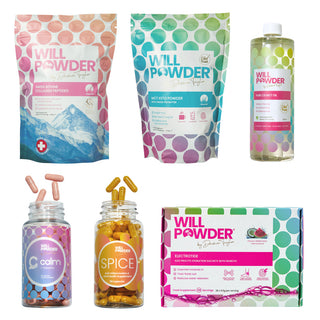 Who are WillPowders?
We are well-being pioneers who believe our community, followers and their families deserve the knowledge to hack their health, the motivation and 'know how' to take control and the confidence to say no to a subpar you.  
We are a team of well researched biohackers, who are striving to improve the nutrient landscape for the betterment of overall mental health and physical well-being. 
It's time to Hydrate, Nourish and Energise! It's time to feed the brain! It's time to reclaim your health!
We are on a mission to educate - FAT IS GOOD! If you eat fat, you burn fat. But it needs to be GOOD FAT #ForFatsSake!
Body and Brain
The practice of changing our chemistry and our physiology through science and self-experimentation to energise and enhance the body.
The WillPowder's community and our Good Fat Club have free access to newsletters, blogs, recipes, How To Guides, expert advice, health quizzes, podcasts and so much more. We stay abreast of the latest research and frequently consult with leading specialists, experts and pioneers in their fields. We are here to guide you as you biohack your way to optimal health and well-being.

WillPowders have designed and developed a range of products for those who are struggling with bad eating habits, yoyo diets, brain fog, hormone imbalances, low energy and those who want to add a deeper level of nutrition to their family meals.
Our hope is that our Good Fat Club and our WillPowder's Community can feel amazing, thrive and not just survive and take control of their mental health and physical well-being.
"I LOVE these products. After watching Davinia for a while I have ordered the MCT powder. Now the collagen, thyroid, insulin, calm…safe to say I'm a customer for life and addicted!
Less snacking on carbs which was my downfall and reaching for healthy alternatives instead all with the help of willpowders."
Become part of the WillPowder's Community
Follow us on Instagram, Facebook and TikTok
The Collagen Collection
Our hero collagen peptides available in Swiss Bovine Peptides (400g pouch), Halal Bovine Peptides (400g pouch) and travel sachets (28 x 5g)