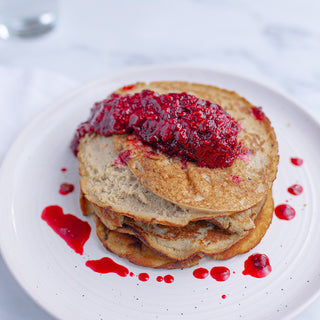 Almond and Banana pancakes with Raspberry Jam
Preparation Time | 10 mins
Cooking Time | 25 mins
Servings | 1
A delicious breakfast, pud or snack. Satisfy that those sweet pangs with this nutrient dense plate of yum!
Method
Step 1: 
First of all, get the jam on the go. Put the raspberries and maple syrup in a small pan and heat slowly for 10 - 15 minutes. The raspberries should break down and cook slowly in the syrup, forming a lovely sweet jam.
Step 2:
To make the pancakes, mash the bananas in a bowl until there are no lumps. 
Step 3: 
Add the eggs and whisk for 5 minutes until you have a light and fluffy mixture. 
Step 4: 
Whisk in the almond flour, protein powder and baking powder and whisk again until there are no lumps. The mixture should be the consistency of a regular pancake batter, so if it is too thin, add more almond flour until it does. This recipe is very forgiving, so play around with the quantities if you want a thinner or thicker pancake. Alternatively, just put all of the ingredients into a food processor and blend together until smooth
Step 5: 
Heat your pan on medium heat (if your hob goes between 1 and 6, put it on 4) and add a knob of butter. Swirl the pan so the base is fully covered.
Step 6: 
Add 2 dessert spoons of mixture per pancake. Using a spatula, lift the sides gently to see if they are cooked. Once the underside is slightly brown, flip them over. The second side should only take 30 seconds to cook, whereas the underside will take 1 or 2 minutes
Step 7:
Pour the jam over the pancakes and serve!
Ingredients
For the Pancakes
2 Bananas
4 Eggs
2 Tbsp Almond Flour (Oat Flour works well too) (approx 40g)
¼ Tsp Baking powder
2 scoops of Protein Powder
For the Jam
Handful of raspberries (washed and dried)
3 Tbsp Maple Syrup or Honey