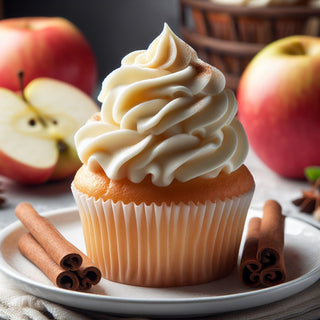 Apple and Cinnamon Cupcakes with Protein Icing
Preparation Time | 15 mins
Cooking Time | 25 mins
Servings | 6
These protein packed and amino acid rich cupcakes are the perfect pud to stave off those sugar cravings.
Method
Step 1:
In a pan, cook the grated apple, honey and ginger until the apples soften. 
Step 2:
Allow this mix to cool (if you add it to the other ingredients while it's still warm, the eggs can scramble).
Step 3:
Add the cooled apple mix along with all of the other ingredients to a food processor and blend. The mix will always be a bit more lumpy than a traditional cake batter, but that's fine. It should sort of resemble porridge.
Step 4:
Put the batter into silicone muffin moulds for best results, or you can use individual muffin cases. Be sure to smooth down the top of the batter, as any peaks can catch and singe before the rest of the cake is cooked.
Step 5:
Bake in the oven for 18 minutes at 180⁰
Step 6:
The Icing 
Using a silicone spatula, mix all of the ingredients together and then spread on top of the cooled muffins
Ingredients
For the Cupcakes:
4 Grated Apples
4 Tbsp Honey 
1/2 Tsp Ginger
3 Eggs
150g Ground Almonds
3 eggs
1/2 Tsp Baking Powder
Pinch salt
Collagen Peptides
 For the Icing:
25g Protein powder
2 Tbsp Honey
25g Grass fed Butter at room temperature