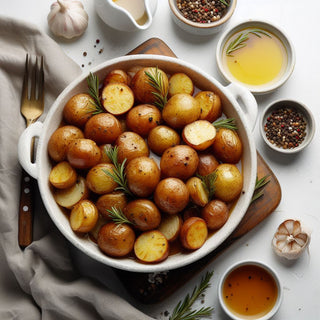 Bone Broth Roast Potatoes
Preparation Time | 5 mins
Cooking Time | 35 mins
Servings | 4
A collagen rich potato is all anyone needs to satisfy those carb cravings the right way. Packed full of flavour and amino acid magic, we guarantee you'll never make potatoes any other way.
Method
Step 1: 
In a wok, boil the potatoes in the bone broth until the liquid begins to boil dry. This will glaze the potatoes in all of the goodness. Keep them stirring once it gets to this point to get all of the sticky stuff off the base of the pan, so that it sticks to the potatoes and doesn't burn.
Step 2:
Transfer to a parchment lined baking tray and bake in the oven on 200⁰ for 20 minutes. 
Step 3:
Sprinkle with sea salt.
Step 4:
Leave to cool for about 10 minutes before eating as the glaze will be really hot and could burn your mouth.
Ingredients
500g Potatoes (waxy ones work best, so I use Salad Potatoes or Charlotte Potatoes)
250ml  Bone Broth (with the fat that is on the top. If using store bought bone broth, add 50g grass fed butter)
Pinch of Sea Salt