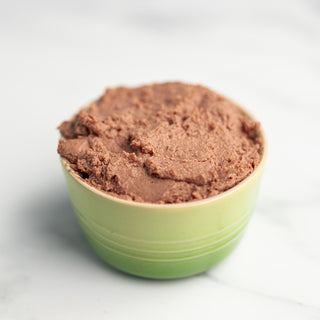 Homemade Pate
Preparation Time | 10 mins
Cooking Time | 25 mins
Servings | 4-6
Liver is known as nature's multi-vitamin. It is an absolute powerhouse of nutrition, but a lot of people find it unpalatable.  Making your own pate is a great way to incorporate it into your diet without having to face the texture of it when it's whole. 
Homemade pate, using these natural ingredients, is much better for you than the store bought stuff. The chicken liver pate in supermarkets is often padded out with pork fat and other nasties, so this recipe will give you all of the good stuff without the food hangover.
Method
Step 1: 
Chop and saute the onions and garlic in 50g of the butter, 
Step 2:
Once they have softened, add the balsamic and smoked paprika. Cook through until slightly brown.
Step 3:
Add the livers to the pan. Cook for about 10 minutes, until the livers have cooked all the way through.
Step 4:
Once it is all cooked, set the mix aside and melt the rest of the butter in the residual heat in the pan. Don't put the pan back on the hob, we just want to melt the butter gently to preserve the nutrients.
Step 5:
Put the melted butter and livers in the food processor and blend until smooth. The mixture will be quite runny while it's still warm, but it will solidify as it cools so don't worry if it's not the consistency of pate just yet.
Step 6:
Pour the mix into whatever storage jars you use (the glass Gu Pud jars are a perfect sixe), cover and put in the fridge. These freeze really well too, so you can pop them in the freezer and defrost as you need.
Ingredients
500g Chicken Livers
1 red onion finely diced
200g Grass Fed Butter 
2 cloves of garlic (crushed)
½ tsp Smoked Paprika
2 Tbsp Balsamic Vinegar