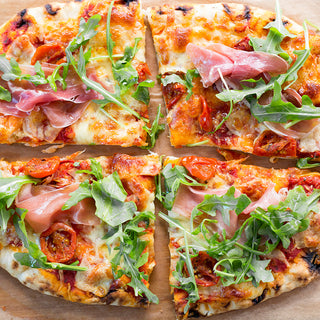 Sourdough Pizza with a Tomato and Collagen Sauce
Preparation Time | 180 mins
Cooking Time | 20 mins
Servings | 2x 14" pizzas
Boost your pizza sauce with essential amino acids that your family will not notice, but their tummies will thank you for!
By Beth O'Neill
To create this absolute mouth heaven and gut pleaser, you will first need to prepare your sourdough "mother".  Once you've readied your natural yeast, you can leave it in the fridge for up to a week without having to feed it.  This pizza is best made with a refrigerated, unfed "mother", so it's pretty faffless and a super quick weekend treat that won't leave you feeling rubbish!
The "Mother"
Grab yourself a Kilner jar and mix 4 ounces of bread flour and 4 ounces of water together. 
Cover loosely with some cling film and leave to ferment. 
Repeat this step over 4 days, around the same time of day.  Discard a little bit of your sourdough mixture everytime you feed it, otherwise, you'll end up with more of your "Mother" than anyone needs. You could use your surplus "Mother" to make sourdough crackers, which make for a delicious suppertime snack. 
You should end up with a lively and bubbling natural yeast - your own little jarred monster.  You can either get straight to pizza making, or simply pop it in the fridge until you're ready to get your Italian on.
You can either make this recipe in the morning and leave it to rise in the fridge during the day, or prepare it one and half to two hours before dinner. 
You can make your dough by hand, or in a mixer using a dough hook.  Either way, you'll still make a fantastic pizza base.
Method
Step 1
Measure out 345g of your sourdough mother and pop it in a mixing bowl. Add 450g of bread flour and 200ml of water. Next, pop in one and half teaspoons of salt Finally, add a sachet of yeast - pop it as far away from the salt as you can. 
Step 2
Now, get your mix on, ensuring that all the ingredients are well combined, resulting in a smooth doughy consistency. 
Step 3
Pop your dough in an olive oiled bowl and cover with cling film.  If you're not planning to eat for a while, pop it in the fridge for a slow rise, or, if you have hungry mouths to feed, leave it in a warm place for a quick rise - one to two hours should do the trick. 
Step 4
Once your dough has doubled in size, pop it on a well floured surface.  Split the dough in half (to make 2 14" pizzas).  You might find the dough is rather wet, so don't be afraid to knock it back using a bit more flour, enabling you to handle it without it sticking to your fingers.
Step 5
Oil two 14" inch pizza trays (the ones with the holey bottoms are the best and create a gorgeous crunch) and pop your dough in the middle of the tray.  Push the dough out to the sides of the trays and leave to rise for another half an hour or so. 
Step 6
Meanwhile, empty 2 cans of good quality plum tomatoes into a pan (you can use a punnet of fresh vine tomatoes if you would prefer).  Add a pinch of salt, some garlic powder (if you wish), 2 good tablespoons of collagen powder and pop on a low heat for about 5 minutes. 
Step 7
Preheat your oven to 240 degrees celsius (fan) - sourdough needs that bit of extra heat. 
Step 8
Once your tommies are soft, use a masher to squash them a bit more and voila, your fresh, no frills, amino acid rich pizza sauce is ready. 
Step 9
Spread your sauce equally across your two pizzas, drizzle some olive oil on your crusts and pop them in the oven for a pre-cook and before you add your cheese for between 8-10 minutes. 
Step 10
Once your dough starts to turn golden, sprinkle mozzarella over your bases (and whatever other ingredients you fancy) and pop them back in the oven until the cheese starts to bubble. If you're using balled mozzarella, dry it off using kitchen roll before adding it to your pizza. 
To serve, tear fresh basil and crack some black pepper. 
You will never order a pizza again! 
Ingredients
The Pizza
345g of your sourdough "mother"
450g of strong bread flour
200 ml of water
11/2 teaspoons of salt
1 sachet of yeast
A drizzle of olive oil
The Sauce
2 cans of plum tomatoes - or a punnet of fresh vine tomatoes
2 balls of mozzarella, or grated mozzarella if you prefer.
1 teaspoon of garlic powder, or 2 cloves of fresh garlic.
A pinch of salt. 
2 tablespoons of WillPowder's Collagen