How to WillPowder using Collagen
Sneaky nutrition
What is Collagen and why is WillPowder's Bovine Collagen Extra Special? 
WillPowder's Bovine Collagen Peptides supplement is the finest swiss collagen and it is the epitome of sustainable and planet friendly. Who doesn't love some guilt free goodness?  Not only this, our collagen has no hidden nasties, it's family friendly, completely tasteless and it's the perfect combination of essential and high quality amino acids, which work perfectly for that sneaky nutrition.  Our collagen is in peptide format, meaning your body can easily absorb all of the amino acid magic available. These tiny molecules are so robust, you might say: the 'marine' of the collagen family, that they can withstand extreme heat; therefore, they will not break down or lose their efficacy if you opt to use our collagen in your cooking to benefit your whole family. 
Why use our Bovine Collagen? 
Our Bovine Collagen is made up of type 1 and type 3 collagen.  This means that not only can you expect long and lustrous locks, hard as nail nails, glowing skin that exudes that gorgeous youthful plump, but it will also take care of your inside too.  Those creaky, achy joints will become a thing of the past as your collagen intake will support joint lubrication, support those who suffer with arthritis and aid muscle mass synthesis.  Type 3 collagen plays a crucial role in looking after your organs and arteries, the things we really need to take care of.  Collagen is a building block that we unfortunately start to lose when we hit our 30s, and which we need to remain in peak physical shape. 
To help you to decide How to WillPowder in a way that is going to be most beneficial to you, here are a few 'need to know' basics about diets (not in the sense of deprivation, but in the sense of what, when and how you eat). 
Keto Diet
A Keto diet is when you consume very low levels of carbs and sugars, replacing them with good fats, which become your main source of energy.  A Keto diet prevents fat retention and instead fuels your body and brain, as it turns fat into Ketones (a type of chemical that your liver produces when it breaks down fats).  See our How to WillPowder with MCT Powder Guide to learn more about this scientific wizardry. People opt for the Keto diet because it is a great way of losing weight without depriving oneself.  Not only this, it is scientifically proven to reduce the risk of diabetes, Alzheimers, heart disease and arthritis. A Keto diet also reduces those blood sugar and insulin spikes (which trigger those pesky cravings and make you reach for the biscuit tin).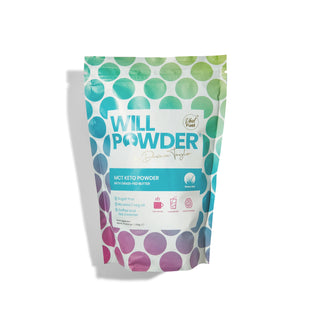 There three types of Keto diets
Standard Keto Diet: this is where you consume 70% fat, 20% protein, 10% carbs 7 days a week. 
Cyclical Keto Diet: this is where you consume 70% fat, 20% protein, 10% carbs  5 days a week and then bring on the weekend with a much less fixed approach.  You might consider WillPowder's Rise & Shine if you opt for a cyclical approach to support your liver function during your two off days. 
High Protein Keto diet: this is where you consume 60% fat, 35% protein and 5% carbs over 5 or 7 days.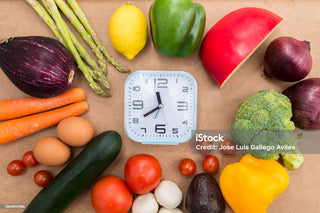 Intermittent Fasting
Intermittent fasting is all about when you eat and it has a tonne of health benefits: 
Autophagy happens when you fast.  This is your body's process of cleaning up your cells.  If you eat regularly, your body does not have time to process and get rid of damaged cells.  Instead, it just creates new ones.  Research suggests that cancer cells cannot generate if you are creating the perfect bodily scenario where Autophagy can occur. 
Intermittent fasting can support your thinking and memory, keeping you fresh and more alert. 
Your physical performance can improve, increasing your endurance and result in fat loss whilst maintaining muscle mass. 
Intermittent fasting can improve your blood pressure and resting heart rate. 
Your risk of obesity will greatly reduce and the risk of insulin resistance is lowered or completely prevented if you opt for intermittent fasting. Your tissue health will improve.
"Absolutely unparalleled products and service. I'm confident that this store will be the next big thing in its industry, and that its products will be timeless."
"Absolutely unparalleled products and service. I'm confident that this store will be the next big thing in its industry, and that its products will be timeless."
To learn, develop or master how to WillPowder with our Bovine Collagen Peptides supplement, assess which type of hacker you are:
New Hacker:
You have never used a collagen peptide supplement before
You do not engage with intermittent fasting
You are not on a Keto diet
You rely solely on your NEAT movements (Non-exercise activity thermogenesis e.g. cleaning, walking to work, gardening etc…) to keep you active. 
You are curious about how to improve your health and well-being
Regular Hacker: 
You have used a collagen peptide supplement before 
You regularly engage in intermittent fasting or a 'dirty fast' (NB* A dirty fast is when you consume 100 calories within your fasting window by consuming good quality fats and non insulin spiking calories - this is our recommended way to fast, especially for peri-menopausal ladies.  If you have had your gallbladder removed, by consuming some good calories during your fasting period, you will nullify the effects of bile build up in your stomach) 
You sometimes engage in exercise on top of your NEAT movements (Non-exercise activity thermogenesis e.g. cleaning, walking to work, gardening etc…)
Expert Hacker: 
You have been using biohacking supplements for 12 months or more
You engage in regular exercise, if not intensive exercise or training 
You are an experienced intermittent 'faster' and who has followed a fat rich diet for 12 months or longer e.g Keto, Paleo or a Carnivore diet
Now you know what type of hacker you are, here is how you might use our Bovine Collagen: 
New Hacker: 
We recommend starting with 10-15 grams of collagen a day. This will ensure that your body can adapt. If you're new to the world of biohacking, it's really important that you don't try to change too many things at once.  Get used to a product before you introduce another one, so to say. When we introduce something new to our digestive system, some people can experience diarrhoea, nausea and bloating.  If this happens, don't give up, but do reduce your daily dose by a couple of grams until your body adapts to the intake of the high quality amino acids that are available in WillPowder's Bovine Collagen. 
Here's an example of how you might use Bovine Collagen: 
You might pop one heaped teaspoon in your morning and afternoon beverage. Because it is completely tasteless and full of the good stuff that your whole family can benefit from, you could add another heaped teaspoon (per serving/ person) into whatever you're cooking for dinner. Collagen mixes completely, so onepots, sauces, soups, anything liquidy really will soak it all up and your fussy toddler or teenager will never know.  Their tummies will thank you though!  You can add our collagen at any point of the cooking process because of the amazing peptides that can withstand any amount of heat, or cold - ice pop, anyone?  
If you decide that intermittent fasting isn't for you, but you still want to boost your amino acid intake and improve your body's collagen, simply live your best life and, once your body has got used to the sneaky nutrition that collagen provides, consume as much as you like.  
Regular Hacker:
We would recommend a regular hacker consumes between 20-30 grams a day.  If you are on the intermittent fasting journey, and are consciously trying to lose weight and not just looking to improve your overall health, you should use smaller amounts of collagen during your fast and save the bulk of your 20-30 grams for your eating window.  For example, split 10 grams across your fasting period by popping 2-5 grams (a teaspoon)  in your beverages and then wop the remaining 20 grams in dinner or your drinks. If you 'Dirty' fast, by sticking to 10 grams  of collagen (which is 36 calories) in your fasting window, you save enough of your 100 calories for some MCT goodness - see our How to WillPowder with MCT Powder for more information. 
Expert Hacker: 
We would recommend an expert hacker consumes around 30-40 grams a day.  Much like a regular hacker, who is following a 'dirty' 16:8 fast, you should aim to consume around 10 grams of collagen within your fasting period.  If you're hardcore and follow a 20:4 fast, you may want to up your grammage by 5  in your fasting period to help withstand those cravings. Save the rest of those incredibly powerful and nutrient dense collagen calories for your eating window, where you can sprinkle your remaining collagen in your cooking, or delight in a supper time hot chocolate- whatever floats your boat, really.
More to Discover

Collagen is the most abundant protein in the body, accounting for about one-third of its protein composition. There are 4 main types of collagen in the body: