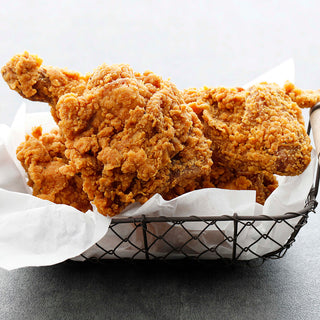 KFC Style Chicken
By Davinia Taylor
Preparation Time | 10 mins
Cooking Time | 25 mins
Servings | 4
Get your fast food fix with this healthy, gut pleasing version of fried chicken. This recipe is a family pleaser and will help to reduce inflammation. 
Serve with a salad and rice.
Method
Step 1
Add your arrowroot powder to a bowl, along with the curry powder, the powder from the Spice capsules, garlic powder and salt.  Give it a good mix. 
Step 2
Crack one egg into a separate bowl. 
Step 3
Bathe your chicken in the egg and then your powdery coating. 
Step 4
Cook your chicken in your airfryer for 20-25 minutes (adjust time for oven cooking) - until your chicken is cooked thoroughly.
Ingredients
4 tbsp of organic arrowroot powder
1 tsp of curry powder
2 capsules of WillPowder's SPICE supplement
1 tsp of garlic powder
A sprinkling of Maldon salt
1 egg
6 to 8 chicken thighs on the bone, wings or legs