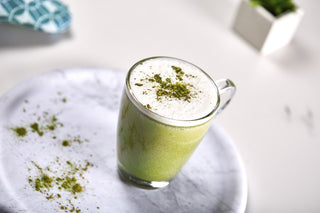 Matcha "Reset" Latte
By Davinia Taylor
Preparation Time | 2 mins
Cooking Time | 0 mins
Servings | 1
An antioxidant brew that will take care of your gut and brain and prevent you from snacking.
Method
Step 1
Boil your kettle and leave the water to cool for a little bit. 
Step 2
Pop 1 tsp of matcha powder, 1 tsp of MCT Keto Creamer and a squirt of MCT Oil into your cup. 
Step 3
Add your water and a couple of drops of stevia to sweeten.
Ingredients
1 tsp of organic matcha powder
1 tsp of MCT Keto Creamer
Nearly boiled water
Optional drops of stevia