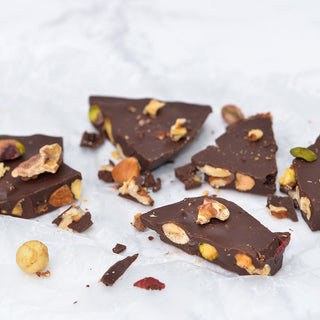 Paleo Chocolate Bark
By Davinia Taylor
Preparation Time | 10 mins
Cooking Time | 0 mins
Servings | 4
Stave off the crave with this delicious sweet fix that is actually good for you!
Method
Step 1
Line a baking tray with cling film.
Step 2
De-stone and blend the dates, avocado, cacao, salt and milk together.  Add more almond milk as needed - you're looking for a thick double cream consistency.
Step 3
Pour the blended mixture onto your clingfilmed tray and spread thinly. 
Step 4
Top with your toppings of choice. 
Step 5 
Pop the tray in the freezer overnight and break off chunks as when you need.  
Ingredients
8 medjool dates (take the stones out)
1 very ripe avocado
1 tbsp of cacao powder
A pinch of salt
A splash of milk
Optional toppings: 
Crushed nuts
Edible flowers
Chilli flakes
Dried fruits