Does Eating a High-Fat Diet Raise Cholesterol?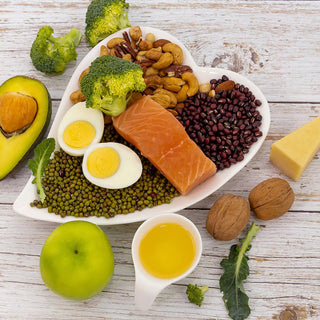 MCT/ Fat Blogs
Does Eating a High-Fat Diet Raise Cholesterol?
Your Need to Knows when it comes to Cholesterol
For decades, dietary fat has been villainised as the root cause of high cholesterol and heart disease. Even though researchers have long disproved this notion, myths surrounding fat and cholesterol continue to dominate headlines, and doctors as well as government guidelines, continue to recommend low-fat diets to the public. Based on years of contradictory advice, you may, quite understandably, be confused. Let's clear up the confusion surrounding fat, cholesterol and their role in health and heart disease once and for all.
What is Cholesterol?
Cholesterol is a waxy, fat-like substance that's found in ALL the cells in your body. It's actually super important for your health. Your body needs cholesterol to make hormones, convert sunlight to vitamin D, make synapses connecting brain cells and to make bile, which helps you digest food. Your brain is made from it too and without it, we would die. We need lots of cholesterol to live and to heal, which is why our body manufactures it all on its own in the liver. In fact, the body makes more cholesterol than what you consume, so avoiding foods that are high in cholesterol won't impact your blood cholesterol levels significantly. So, as you can see, cholesterol isn't the bad guy lurking in your eggs and bacon, ready to pounce and cause you a sudden stroke or heart attack. 
So, why are we so Afraid of Cholesterol?
Certain types of cholesterol (LDL) can become sticky and build up as plaque in our arteries, leading to obstructions of blood flow and resulting in a heart attack or stroke. What leads to the increase and build-up of sticky cholesterol has been the subject of much debate and confusion, which has been perpetrated by none other than the sugar industry. Big surprise!
In the 1960s, the sugar industry paid a couple of Harvard scientists to play down the link between sugar and heart disease and promote saturated fat as the culprit instead. This means that decades of research into the role of nutrition in heart disease, including many of today's government dietary guidelines, have been largely shaped by the sugar industry. 
Does Eating Fat Cause High Cholesterol?
As with everything in life, nothing is black and white, and the answer is more complex than a simple yes or no. General advice to cut fat from your diet isn't nuanced enough to distinguish between a plate of chips swimming in canola oil and the unsaturated good fat found in avocado.

Recent research has shown that there is no consistent link between dietary fat intake and heart disease. Saturated fat, the most unnecessarily demonised of all fats, has not been found to increase levels of the worrisome sticky cholesterol that can clog up our arteries. In fact, researchers found that a high-fat diet was actually associated with an increase in good (HDL) cholesterol levels.

When it comes to fat, what matters most is the type of fat you eat. Some fats will contribute to your health whilst others will detract from it - knowing the difference is crucial to preventing disease and living a healthy life.

The key is to eat mostly "good" animal and dairy fats along with high levels of Olive oils which are anti-inflammatory, and avoid "bad" trans fats like the plague itself. For more on different types of fats, have a read of our Fats: The Good, The Bad, and The Ugly. 
Excess Sugar - the most Powerful Driver of Sticky Cholesterol Production
Sugar, in all its forms including: bread; pasta; crackers; wraps; bagels; fruit juice; soda and alcohol create insulin spikes which increase weight gain, sticky cholesterol production and inflammation in your arteries. Inflammation leads to the thickening of the walls of your blood vessels and plaque formation, ultimately resulting in heart attack or stroke.
Don't blame saturated fats for what sugar did! 
For those of us who haven't damaged their blood vessels by mainlining processed, carb-laden food, cholesterol flows through the body unobstructed and is allowed to go about its business of being essential to our health.What affects the amount of inflammation in your body is what you eat, how active you are, your levels of stress and other lifestyle-related factors, such as smoking.
How to Decrease your Risk of Heart Disease & Strokes
Instead of worrying about your cholesterol numbers, adopt a healthy lifestyle focused on reducing inflammation. Eat more anti-inflammatory omega 3s like fatty fish and olive oil and curb less omega 6s and trans fats.
When it comes to saturated fat, stick to grass-fed beef, coconut oil and MCT Oil rather than fried food or processed meat. MCT Oil has actually been found to increase good cholesterol whilst decreasing the sticky type we don't want to clog our arteries. Adding some MCT Oil or Powder to your morning coffee will protect your heart, give you that extra boost of energy and stop you from snacking
As well as adding in the good stuff, make sure to limit the amount of processed carbs in your diet and replace them with antioxidant rich vegetables and whole grains.

In short:  eat well, stay active, keep your stress to a minimum and support your body in performing functions that it's meant to do - that way, you won't have to worry about your cholesterol levels.

As an aside, there are certain genetic conditions, such as familial hypercholesterolemia that may require medication or a different dietary approach. If this is you, speak to your doctor for advice. 
So, enjoy your good fats and stop worrying about cholesterol, # For fats sake! 
For more information, take a look at Dr Malcolm Kendrick's eye-opening books, 'The Great Cholesterol Con' and 'The Clot Thickens' .
More to Discover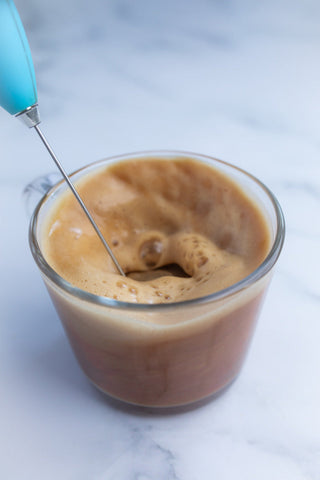 This craving busting coffee will satisfy those pangs for puds, supports ketosis and staves off hunger during your fasting window.
At WillPowders we know, because we are super well researched and have cut through the con, that consuming good fat is the only way to not retain bad fat.