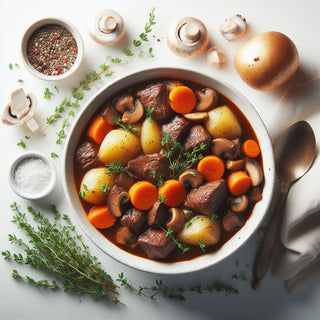 A Hearty Lamb Stew
Preparation Time | 10 mins
Cooking Time | 6 hours
Servings | 8
Warm your cockles and feed your body the good stuff with this delicious stew that serves between 6-8 people.  A perfect, faffless Autumnal/ Winter slow cooked dish that will leave your family satisfied and their body nourished.
Method
Step 1:
Whip out your slow cooker. 
Step 2: 
Chop your veg
Step 3: 
Cube your meat to create approximately 1 inch pieces. 
Step 4: 
Pop all your chopped ingredients into your slow cooker.
Step 5: 
Stir through the tomato puree so that everything is covered. 
Step 6: 
Dissolve your stock cubes in boiling water - you need enough water to just cover your ingredients. 
Step 7:
Add 5 Tbsp of Balsamic vinegar and your sprigs of Rosemary and Thyme. Don't worry about the stems - you can remove these after cooking. 
Step 8:
Pop your slow cooker on high and leave to stew for a minimum of 6 hours. 
Step 9:
Serve and season to taste. Delish!
Ingredients
2 lamb's Hearts
750g Lamb Stewing Steak
250g Lamb or Chicken Liver
2 Carrots
2 Onions
6 Mushrooms
250g Potatoes
Sprig Fresh Rosemary
Sprig Fresh Thyme
3 Tbsp Tomato Puree
4 Tbsp Balsamic Vinegar
2 Beef or Lamb Stock Cubes (Kallo are best)