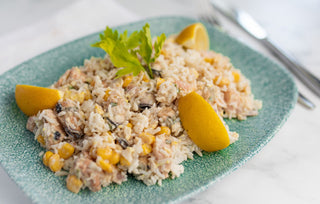 A Versatile Fish Pie Mix
by Daniel Kirkham
Preparation Time | 10 mins
Cooking Time | 30 mins
Servings | 4
This mix can be used as a fish pie, if covered with mashed potatoes and some extra mature cheddar. It goes great on a jacket potato, or you could mix it with basmati rice or make a delicious fish risotto. It also freezes really well, so you can make a load in advance and defrost it as needed.
Fish is a great source of Omega 3 fatty acids which are essential for brain health and keeping your mood elevated. The mussels in this recipe are packed full of vital nutrients including Zinc, which is essential for reproductive health, metabolic function and your  immune system.  Topped off with the good fats from the full fat cream cheese and Cayenne pepper and parsley which will support the gut and aid your blood pressure.
Method
Step 1
Chop your fish into bite size chunks and dice your onion 
Saute the onions in butter until soft. 
Step 2 
Heat  a good knob of butter in a pan over a medium heat and add your onions.  Saute until soft. 
Step 3
Add the fish and mussels and cook for 2 minutes. 
Step 4
Add 2 tbsp of white wine vinegar, sweetcorn, cream cheese, cayenne pepper, the juice of 1 lemon and season. Simmer for 10 minutes 
Step 5
Serve with your side of choice. 
Ingredients
1 red onion
1 Fillet Smoked Haddock
1 Fillet Cod
1 Fillet Salmon
1 Pack of Raw Mussels
Juice of 1 Lemon
½ Tub Full Fat Cream Cheese
Salt 
Black Pepper
¼ Tsp Cayenne Pepper
2 Tbsp White Wine Vinegar
200g Sweetcorn
Handful Fresh Parsley