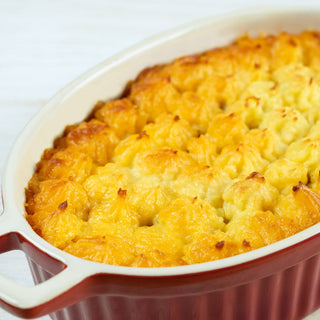 Chicken, Mushroom and Leek Pie with a Collagen Twist
Preparation Time | 20 mins
Cooking Time | 60 mins
Servings | 4
Who doesn't love a pie? This recipe will become a family fave, providing them with all the amino and fatty acids they need to fuel their bodies in the right way. 
If you're not a fan of the shroom, simply leave it out.  Sometimes the beauty of cooking is experimenting with ingredients. 
You can opt for a puff pastry or mash top - both are delicious! If you opt for pastry, make sure you begin with this element because it needs that extra bit of love and care. 
This recipe will easily feed a family of 4, so decrease or increase to meet your own table's needs.
The chicken filling and the main amino event:
Method
Step 1
Preheat your oven to 180 degrees celsius 
Step 2
Chop and slice your mushrooms, leeks and garlic
Step 3
Add a knob of butter and a glug of oil to a casserole dish that can go in the oven later. Once your oil and butter has heated up, add your chicken thighs and move around the pan until they have sealed and started to brown.
Step 4
Remove your chicken thighs and pop them on a plate.  Add your leeks to your pan and sweat them down for a couple of minutes.  Then add your mushrooms and garlic.  
Step 5
Pop your chicken back in the pan and add 175ml of white wine -reduce until it's pretty much disappeared. 
Step 6
Add your tarragon and dijon mustard, coating everything in the pan. 
Step 7
Add your bone broth, collagen and season with salt and pepper. 
Step 8
Pop your pie in the oven and cook, uncovered, for 30 minutes or so.  By letting it cook and reduce in the oven, you can avoid adding corn flour, which we think makes it gloopy and a bit meh. Give it a stir intermittently and keep an eye on how fast the sauce reduces - you want a bit left, but not so much that your chicken is swimming around. 
Step 9
Remove from the oven and add cream.  You can use as little or as much as you want.  150ml should do the trick though. Taste to make sure it's seasoned to your liking. 
Step 10
Either keep it in one big casserole dish, or decant the filling into smaller pie dishes. Add your pastry or mash top and pop back in the oven until your mash starts to crisp, or your pastry is golden and flakey - 15 to 20 minutes should do it. 
Serve with an array of greens - green beans, broccoli and cabbage are our fave.
Ingredients
800 grams of chicken thighs (free range and organic if possible)
A punnet of mushrooms (any will do, but chestnut mushrooms add a lovely woody flavour)
1 leek
500ml of bone broth
3 to 4 cloves of garlic
2 tsp of tarragon, but rosemary works too
A tbsp of dijon mustard
A glug of olive oil
A knob of butter
2 tbsp of Collagen
175ml of white wine, or a splash of white wine vinegar if you don't want to add booze
Single cream
A Pastry Top
Now you could just buy your pastry, but the majority of shop bought pastry uses veg oil instead of butter.  Veg oil is so bad for your gut, so a little extra effort will support your gut health and keep it happy.  If you're feeling brave and have time, have a nosey at our recipe below.  Be warned though, you'll need about 3 hours. 
Method
Step 1
In a large mixing bowl, combine the flour and salt. Add in the cold butter cubes and toss them in the flour mixture to coat.
Step 2
Using a pastry cutter or your fingers, work the butter into the flour until you have a coarse, crumbly mixture with pea-sized butter pieces.
Step 3
Gradually add ice water, about 2 tablespoons at a time, mixing gently with a fork after each addition. You want the dough to just come together, so be careful not to over-mix.
Step 4
Turn the dough out onto a lightly floured surface and shape it into a rectangle. Roll it out into a long rectangle about 1/4 inch thick.
Step 5
Fold the bottom third of the dough up over the middle third, then fold the top third down over the other layers (like folding a letter). This is the first fold.
Step 6
Rotate the dough 90 degrees, so the open end is on the right. Roll the dough out again into a long rectangle and perform a second fold as described in step 5.
Step 7
Repeat step 6 for a total of 6 folds, chilling the dough in the refrigerator for about 30 minutes between each set of two folds.
Step 8
After the final fold, wrap the dough in plastic wrap and refrigerate for at least an hour or overnight before using.  Remember, the key to puff pastry's flakiness is in the folding and chilling process, so take your time with those steps!
Step 9
Place gently over your pie filling and wash with milk. 
Step 10
Pop your pie in the oven for 20 minutes or so, or until your pastry is golden and flakey.
Ingredients
250g of strong flour, plus extra for dusting
225g cold butter
150ml of water
A pinch of salt
A Mash Top
A much easier option which will support that lovely sleepy serotonin.
Method
Step 1
Peel, rinse and chop your potatoes and add them to boiling water. 
Step 2
After 10 - 15 minutes or so, give them a prod with a fork to make sure they are soft and mashable. 
Step 3
Drain your soft pots and add a good knob of butter, a splash of milk and a good shake of salt.  Mash until light and fluffy. 
Step 4
Spread evenly over your pie filling and pop it back in the oven for 15 minutes or so to crisp up. 
Ingredients
6 largish potatoes
A knob of butter
A splash of milk
Salt