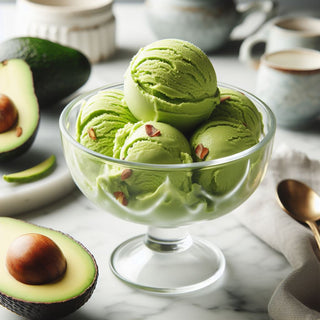 Avocado Ice Cream
Preparation Time | 25 mins
Cooking Time | 0 mins
Servings | 4
This Avocado ice cream is the perfect way to stave off the crave and satisfy those cyclical hunger pangs. Pudding with zero guilt and good fat!
Method
Step 1: 
Destone your Avocados and pop them in your whizzer. 
Step 2:
Add in your cocoa powder, stevia or honey and a pinch of sea salt. 
Step 3: 
Blend your ingredients until smooth. Taste your mixture ensuring it's a tiny bit sweeter than you would normally like. 
Step 4:
Transfer your mixture into an ice cream maker and churn for 20 minutes. 
Step 5:
Enjoy!
Ingredients
6 Avocados (skin and stones removed)
2 Tbsp Cocoa Powder
Honey or Stevia to taste
Pinch of Sea Salt