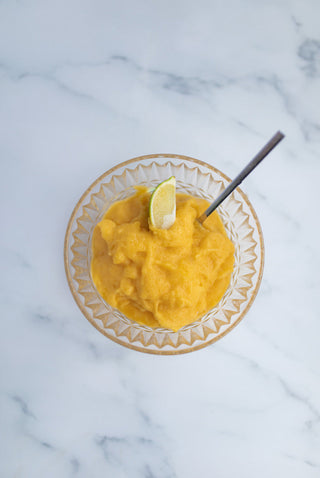 Mango and Lime Sorbet
By Daniel Kirkham
Preparation Time | 5 mins + freezing time
Cooking Time | 0 mins
Servings | 4
This 3 ingredient, deliciously refreshing, antioxidant, amino acid rich and immune supporting sorbet is an absolute game changer.
Method
Step 1
Pop the mango on a sheet of parchment and freeze for at least 2 hours.
Step 2
After 2 hours, remove the mango  from the freezer and let it thaw for about 15 minutes. This process will support a lumpless consistency. 
Step 3
Pop your mango, lime juice and collagen in an electric whizzer and blend until smooth. 
Step 4 
Pop your sorbet mixture straight into a bowl and enjoy, or into ice lolly moulds, or simply a tupperware and store in your freezer until you are ready for sorbet joy.