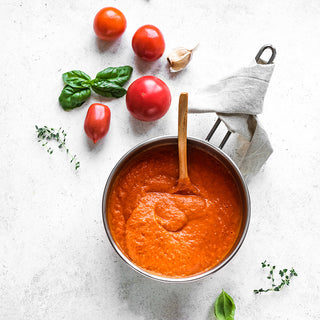 A Collagen Rich Tomato Sauce that can be used for All Sorts!
Preparation Time | 15 mins
Cooking Time | 30 mins
Servings | 4
If you're anything like us at WillPowders, you will constantly be trying to sneak veggies and amino acids into your family, especially those fussy toddlers and teen types. 
Collagen can boost anything saucy and the best thing is, they won't know! 
You can use this sauce as a base for so many things, from a quick pasta sauce, a sauce for lasagne or meatballs to Spanish chicken. You can leave it chunky, or blitz it up for some ninja veg injection.  
Sauces like these are a great addition to your freezer, simply whip it out and defrost in a pan for an emergency, nutrient dense dinner.
Method
Step 1
Prepare your veggies: finely dice your garlic, onion, carrot and celery.  Prepare any additional veg you have floating around if you want to add it. 
Step 2
Pop a glug of oil in a pan and heat over a medium heat.  Add your onion and cook until it has softened. 
Step 3
Add your finely chopped carrot and celery and cook for 2 to 3 minutes.  Add any of your additional and finely chopped veg and sweat them down.  
Step 4
Sprinkle in your garlic, herbage and paprika.
Step 5
When you start to smell the garlic and herbs, add a good squirt of tomato puree and mix until everything is coated. 
Step 6
Add a splash of balsamic vinegar or white wine and cook for 2 minutes or so - until it's reduced. 
Step 7
Add your tomatoes, 2 tbsp of collagen, 1 tsp of sugar and a good shake of salt and pepper. 
Step 8
Add around a cup of bone broth to your sauce. 
Step 9
Leave to simmer until all of your veggies have softened.  If your sauce reduces too much, add a bit of water, or some more bone broth for those additional nutrients. 
Step 10
When your sauce has reduced and your veggies have soaked up the flavour, either serve chunky, or whizz it up for a smooth pasta sauce. 
You could add some feta, mascarpone or simply grate a good quality parmesan for some extra smoke.  A good handful of fresh basil will lift this sauce even more. 
So quick and so simple - who doesn't love ninja veg!  
Ingredients
1 white onion 
1 carrot
1 stick of celery
Fresh vine or 2 cans of tinned plum tomatoes
A dollop of tomato puree
2 to 3 garlic cloves - fresh or granules
1 - 2 tsp of Italian herbage - rosemary, basil, oregano
2 tsp of smoked paprika (optional)
2 tbsp of Collagen
A cup of bone broth 
A glug of olive oil
A splash of balsamic vinegar or white wine. 
A pinch of salt 
Optional ninja veg: courgette, spinach, butternut squash, aubergine, peppers, whatever's lurking in the fridge, really.