How to WillPowder
#FFS
Take Control
At WillPowders, we know what can support your weight management, gut and brain health, hormone balance, energy levels and general sense of well-being. We have spent hours upon hours speaking to doctors, cutting through the con, learning about food and the impact it can have on your body and researching the most cutting edge nutritional science.  Why? We want you to feel amazing. You deserve it. We all do!
Do Your Day the WillPowder's Way
If you want to get off the starting block and counteract the hum drum that life throws at us, here is the day in the life of a 16:8 intermittent fasting 'WillPowderer'-  someone who wants to be the best version of themselves, someone who wants to take back control and someone who is sick to death of surviving and not thriving. 
Morning
When you wake, add one cap of Molkasan and two caps of Aloe Vera into a large glass of water and chug it back.  
Molkasan is a soothing anti-bloater and aids a healthy digestive system by helping good bacteria in the gut to flourish. By preventing bad bacteria and yeasts from being able to attach to the gut walls, Molkasan eliminates them from the body before they take hold and cause problems. Molkasan also improves lactose tolerance because it helps to break down the lactose in milk and dairy products.
Aloe Vera contains healthful plant compounds; has antioxidant and antibacterial properties; accelerates wound healing; reduces dental plaque; helps treat canker sores; reduces constipation; improves skin and prevents wrinkles and lowers blood sugar levels
So, why wouldn't you start your day this way? 
Lunch and Late Afternoon
Chase down your Molkasan and Aloe Vera cocktail with WillPowder's ElectroTide.  Dissolve one sachet in a glass of water for the perfect way to rehydrate and restock vital salts after sleep. 
Not only does ElectroTide hydrate your body, but it also helps you to eliminate toxins at the same time. It has zero sugar, sweeteners that will wreck your gut and absolutely no hidden nasties, so it will not spike your blood sugar, but it will spark you and your body into action. The ingredients create an electrical charge in the brain, blowing away the cobwebs and flushing out the toxins. 
Next, make yourself a fatty black coffee with one heaped teaspoon of MCT Powder and Collagen for a creamy and delicious caffeine boost. Pop your coat on, grab your coffee and head outside for some delicious, rich in Vitamin D, sunlight to kick start your cortisol. 
A Combination of WillPowder's Collagen and MCT Powder will provide your body with the rich amino and fatty acids that it is crying out for. Low levels of amino acids cause the brain to work substandardly. Our collagen supports healthy hair, skin, nails and organs, and you will feel fuller for longer and able to suppress those pesky cravings with our MCT Powder. 
Calm those Jitters
As you near the end of your fasting period, you will likely be getting ready for lunch, so enjoy another fatty coffee.  Avoid the jittery caffeine aftermath, or insomnia by taking two Calm capsules. 
L-Theanine, or Calm, is an amino acid that does exactly what its name suggests.  Not only will it induce a sense of peace, preventing your brain from whirring, it drives the production of dopamine, serotonin, glycine and GABA, leaving your brain in a perfectly balanced state. 
Lunch and Late Afternoon
For lunch, avoid carb overload and fill up on good fats to support ketosis.  Eggs, smoked salmon, avocado, any sort of salad with a sprinkling of nuts, soups with a bone broth base and full fat Greek yoghurt are all great examples of how you can keep your fats high and your carbs low. NB* Ensure you check all salad dressings and snacks for seed or veg oils - instead, use MCT Oil, or make your own.  Check out our recipes for delicious salad dressings.  To support your gut further, add a side of kimchi or sauerkraut and wash it all down with some good old kombucha or kefir. 
Fermented foods are a great way to look after your gut microbiome and a healthy gut is the gateway to body bliss.  
If you're on the go, our Bone Broth Protein Powder is also the perfect way to break your fast. You could replace your whole meal, or simply have a little after lunch to stop those sugar cravings from taking hold. With a complete amino acid profile and added Keto creamer, you can be sure to make it through to dinner having given your body the perfect combination of nutrients.
In order to prevent that afternoon slump, dissolve WillPowder's Brain Powder into a glass of water. Another coffee with some MCT Powder or Oil will ensure that you make it to dinner without snacking and spiking your blood sugar. 
WillPowder's Brain Powder is a powerful nootropic and the perfect pick me up.  Your energy and mental clarity will get the boost it needs, and the added L-Theanine will keep you cool and calm. If you're feeling especially anxious, or if you drink Brain Powder after 4pm, take a further 1-2 Calm capsules to avoid insomnia. 
"Absolutely unparalleled products and service. I'm confident that this store will be the next big thing in its industry, and that its products will be timeless."
"Absolutely unparalleled products and service. I'm confident that this store will be the next big thing in its industry, and that its products will be timeless."
Dinner and Supper
It's important that your evening meal is nutrient dense, will fill you up and will promote sleep.  Ensure you balance your plate with good meats (organic and free range, if possible), white rice, potatoes, pasta, or noodles and fresh veggies.  If you're cooking your food in a sauce, avoid jarred, canned or processed and vegetable and seed oils are an absolute no no! Always opt for extra virgin olive oil or coconut oil. Finally, avoid anything low fat - it may have had its fat stripped out, but that fat (which is good for you) has been replaced with chemicals and sweeteners that do not belong in your body. Low fat produce naturally becomes more sugar dense.  To boost dinner a tad more, throw in some collagen so that the whole family gets an amino acid hit.  You can find some great recipes that use our products here: Recipes
A great way to ensure that your food is clean and its nutrient integrity is in check, is to simply avoid anything that has been ultra processed.  Check the ingredients list and avoid anything that doesn't sound like food or includes veg/seed oil, emulsifiers, which all just make food more addictive.   Shopping locally is an amazing way to support your local economy, but it also pretty much guarantees that you can be sure of high animal welfare. We recommend  Deer Box as a trusted producer of excellent, high quality meat, so grab yourself some venison today. 
For supper, induce some of that gorgeous sleepy serotonin with some sourdough bread, or sourdough crackers topped with cheese or honey.  Wash it down with a Cacao Hot Chocolate with some stevia, reishi mushroom tea or a Spiced Latte. Our spiced latte is the perfect way to reduce inflammation, supporting your body to heal whilst it rests.  Finally, boost your GABA and stop your whirring brain with two Calm capsules to create the perfect biological environment for sleep.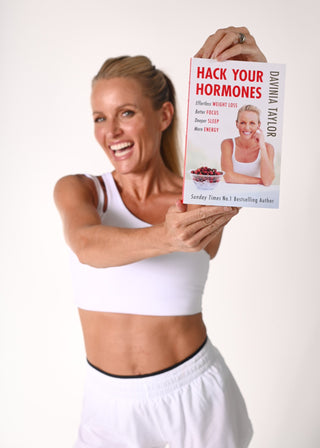 Hack Your Sleep
To learn how to support your best sleep ever, give our review on the Why Can't I Sleep? Chapter of Hack Your Hormones a read. 
We advise that you take the WillPowder's hormone range with food, so if you are engaging in the 16:8 fast, take your supplements with lunch, or before you go to bed.  The important thing is that you remember to take them.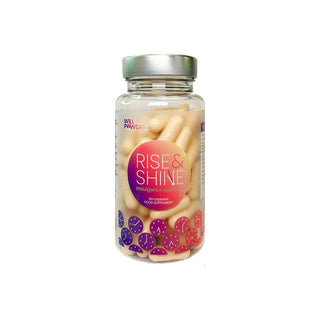 Love Your Liver
Now, we understand that life happens and that this example of how to love your body may not always be possible.  That's okay! Don't beat yourself up!  If you enjoy a glass of wine, you're going out for dinner or having a cheeky takeaway on a Saturday night, it doesn't mean that you have fallen off the wagon and, as always, we have the perfect hack to support you in getting back to the body love bombing:  supplementing these occasions with Rise & Shine will help your liver to process this weekend fare, gaining more protection from the effects of indulgence.
More to Discover
If you can, get wild caught prawns, they are a great source of lean protein without the pesticides and antibiotics used in farm fisheries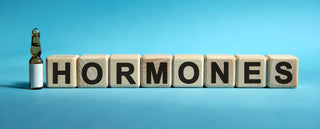 Hormones dictate our mood, energy, sexual desire, sleep, appetite and how we respond to life's stressors. They're our body's chemical messengers, they're not just for puberty, menopause, or the uniquely...